My 16-year old daughter texted me this morning letting me know she was likely participating in a walk-out from school. This did not surprise me, she's walked out to join protests before in support of Black Lives Matter and/or in protest of police brutality. She has taken part in a push for her former middle school to change its name (which it did!) and protested a dress code that she viewed as sexist, leading to discussions with school administration on a more equitable dress code. This time when I asked her what for she simply said, "the environment." I then heard rumblings at work that students from one of our other high schools were all leaving after 2nd period and heading to the capitol building to participate in the International Youth Climate Strike event. So, I googled exactly what that was.
How did I not hear about this prior to this morning? Has my head been in the clouds? Have I been too distracted by work, school, and my flooded basement? How has this world-wide strike been coordinated and the first I hear of it is when my teenager texts me that she is joining it? Granted, I do not use Snapchat or whatever other apps the younger generation are using. I am "old," so I use Facebook. The Guardian is giving live updates showing strikes, marches, and protests from around the world. There is a float of 16-year-old Nobel peace prize nominee Greta Thunberg in Sweden. There are kids in school uniforms protesting outside of parliament in Cape Town, South Africa. The protests in London took local police by surprise as they headed towards Buckingham Palace and chanted "we want change" in front of the Queen's residence.  You can read the live updates here.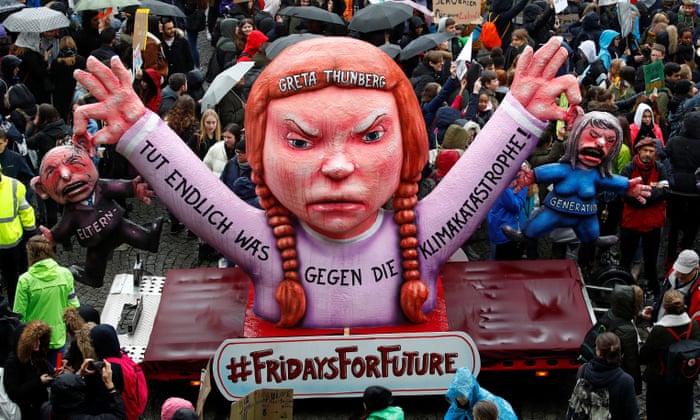 This movement, the way that the strikes were organized, and their central push to create "system change, not climate change" is tied in so well to what Manuel Castells speaks about in his book "Networks of Outrage and Hope." In this article by Sophie Sleeman she talks about how this social movement is forming via social media and how social movements like this are "redefining political space and challenging the idea that social media platforms are only uncontrollable forces beyond our control." Instead, she declares, they are being used to change the world.
Students in Ukraine hold signs that say, "Make My Planet Great Again" and "Don't Burn Our Future." In Poland, a large polluter, they hold signs that say, "Without plastic it's fantastic." In London they went heavy on the signage with some of them questioning why they are being forced to study for a future they will not even have if climate change continues at the rate it currently is.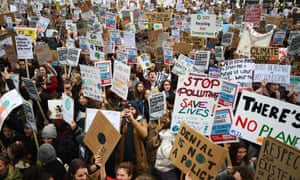 What is it going to take to get the adults in positions of leadership to act with the urgency our youth is demanding? We cannot take small, incremental steps towards change or continue to act like it is something that can wait for the next decade, the next administration, or the next legislative session to tackle. Scientists around the world agree that we are either at or near a point of no return related to climate change. Some argue that we can no longer stop a 2-degree increase in global warming, and instead argue we need to do everything in our power to mitigate going beyond that. Others are still hoping we can stop it at 1.5 degrees although now that the U.S. has pulled out of the Paris Climate Agreement, as one of the largest consumers in the world, I am not sure how likely that is.
Our youth, our kids, our grand-kids will be the ones who will see and live through the effects of the decisions that we are making right now. Aside from taking on these tips for reducing our own carbon footprint, we need to consider a person's views on environmental policy when deciding who to vote for, put pressure on elected officials already in office, and vote those out who are not voting in the best interest of this earth's future. Saving this planet must start with us, our kids are begging us – will we listen?